Dental implants in the UK vs abroad
Is cheap dental surgery abroad worth the risk?
If you're thinking of dental implants you might have considered going abroad for treatment, in the belief that dental surgeons in other countries can offer an equivalent level of professionalism and skill to UK counterparts but at a lower cost.
But the General Dental Council (GDC), the organisation that regulates dental professionals in the UK, warns patients thinking of seeking treatment abroad to be aware of what to expect and the risks involved.
Here's what you need to know.
Who regulates your dentist or surgeon?
The GDC sets the standards that all dentistry professionals in the UK have to adhere to.
The organisation states: "We can't guarantee another organisation like us exists in other countries, or even that the standards will be the same as they are here." It advises patients to do plenty of research before they agree to travel abroad for dental treatment.
The GDC advises patients to ask if the country they are thinking of travelling to has a professional regulatory body, and if it is compulsory for dental professionals to be registered with it.
Talk to your dentist
It's a good idea to talk to your own dentist before committing to dental implants abroad. He or she may be able to offer advice on treatment or aftercare options, and will also be aware of your treatment when you return. That means they'll be in a better position to offer ongoing care, and will know exactly what to do in case of complications.
Initial consultation
Don't agree to anything without an initial consultation. That may be in the UK, or you may be given a free consultation if you're willing to travel. If it's in the UK, the dentist or surgeon carrying out the consultation must be registered with the GDC. You can check by visiting www.gdc-uk.org and consulting the online register. If the dentist or surgeon is not registered they are not legally allowed to offer the consultation for dental implants in the UK.
Wherever the consultation takes place, the dentist should ask about your medical history and general health, including any chronic conditions you suffer from and any serious medical issues you may have had in the past. Feel free to ask any questions, and if you're not satisfied with any of the answers don't commit to the treatment. Go home and do some more research.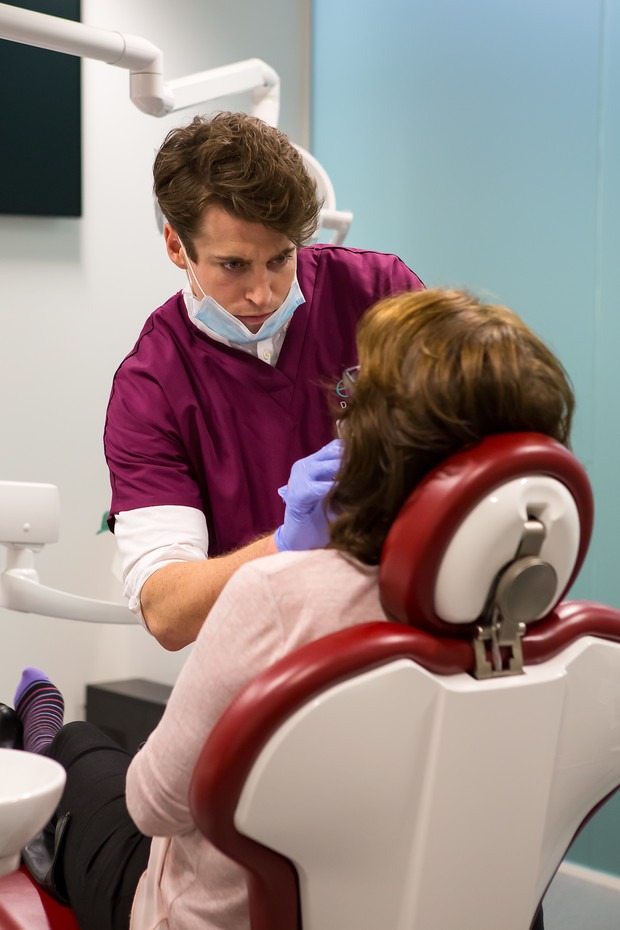 Aftercare
Don't forget that you will need ongoing care after the treatment. Ask how this will be provided and for how long. For example, will you need to stay in the clinic overnight, or will you need to book a local hotel for a period of time after the treatment to accommodate aftercare consultations? Will it be necessary for somebody to accompany you on the trip?
Remember that these costs can add up, potentially making 'cheap' dental implants less cost-effective than at first they might seem.
You will also need to work out what aftercare you might need when you get back to the UK, and who can provide it. Will the clinic provide documents in English for you to give to your dentist back in Britain?
The risks involved
Many foreign dental surgeons offer a first class treatment and aftercare. But you need to do your research first and make sure your surgeon is registered with a respected professional body and that the aftercare you will receive fully meets your needs. If you can't speak the language of the country you intend to visit, make sure somebody in the team can speak to you in English.
The alternative
If all that sounds like a lot of work or a risk you're not prepared to take, there is a cost-effective alternative. Evodental runs two full jaw rehabilitation centres in the UK, providing dental implant-based treatment for patients who require full jaw oral reconstructions.
Our dental surgeons are experts in the field, and our team has completed thousands of full arch reconstructions. Using the latest technology to create a bespoke full jaw prosthesis of teeth which is secured by specially-designed titanium dental implants, our treatment really does change lives for the better
What's more, Evodental's same day smile treatment costs from just £12,000, with no foreign travel or hotel stays necessary. Our patient aftercare is second to none.
So if you are thinking of going abroad for dental implants or a full jaw reconstruction, why not visit our website first and let us show you the Evodental alternative: a state-of-the-art solution at an affordable price, right here in the UK.