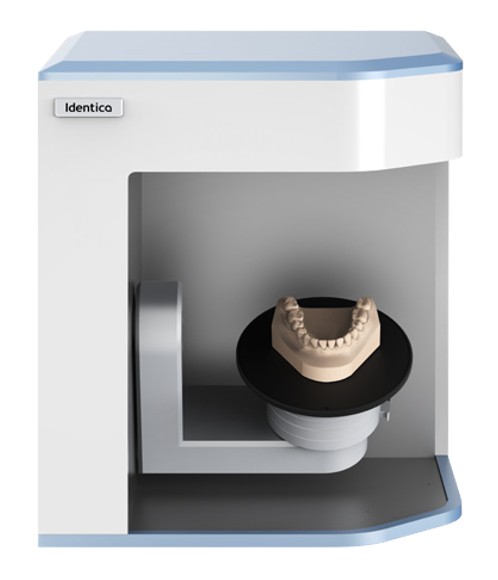 Medit Identica T500
3D Scanners
What is it used for at Evo?
Used for all three prostheses. Produces a digital version of the analogue product.
For those who are interested …
The Identica T500 offers a fast scan engine and highly efficient software algorithm. With the high-speed camera and projector, you can scan a full arch in just 12 seconds and eight dies within 19 seconds.
Features:
0 MP cameras, Blue LED
Accuracy : 7 μm (ISO 12836)
Full arch scan time 12 sec
3-axis automated impression scanning
PRECISION ENGINEERING FROM EVO
Why is this important for our patients
1. Superfast scanning
Hardware and software combine to bring your lab the fastest scanner in the dental industry. Medit ldentica's exclusive, flexible multi-die provides all in one scanning to dramatically increase your productivity.
2. Extreme reality
ldentica T-series captures more details and geometry with higher resolution cameras, merge technology and data processing algorithms.
3. Next generation impression scanning
ldentica's industry leading impression scanning leaps forward with the new ldentica T-series. Automatic double sided impression scanning and data alignment provides complete 3D files ready for design. New software tools enable you to combine the impression and plaster stump for more design flexibility, when you make crowns or inlays using impression scans.
4. Importing and exporting STL files in any scan step
You can use the STL file you already have as scan data, such as a diagnostic model or a stock abutment. In addition, if you need occlusal scan data, you can extract it by using the export function.
5. Scanner accuracy is where it all starts in CAD-CAM.
7 micron accuracy: ISO 12836
10 micron accuracy: ANSI/ADA Standard No. 132, VDI 2634