Request your free consultation now in Leeds
Dental implants treatment in Leeds
We specialise in dental implants in Leeds, offering a one of a kind and innovative approach to this technical procedure to leave you with a smile that looks, feels and performs as well as natural teeth. We focus solely on full jaw dental implants and do everything right here in our onsite lab, so there is never any outsourcing for materials, meaning that quality control is at the very top of its game.
A tailor-made smile you can trust
There's a reason why so many patients trust us to transform their smiles, and that's largely down to our unique approach and excellent reputation. Unlike other dental clinics who offer a range of treatments, we have invested everything into performing dental implants in Leeds.
That means, from the team doing the procedure to the design of your prosthetics and the surgery on the day, you can be confident that you're in the most qualified hands.
We understand no two smiles are the same, which is why we design yours to fit your mouth perfectly. You will never walk away with dentures, and we only ever fit permanent smiles. Thanks to our approach, we rarely have to turn a patient away – even if you have:
very few or none of your natural teeth remaining
been told before that dental implants aren't right for you
wobbly or loose teeth
advanced gum disease
poorly fitted dentures in place
previously undergone dental work
Because we offer a wide range of EvoSolutions, we're confident that we can help – whatever your background may be.
Request a free consultation
To determine whether you are suitable for the EvoSolution™, please fill out this form, if you are suitable one of Patient Coordinators will call you within 48 hours. Alternatively, call us on 0800 470 3050 Click to Call
EvoSolution 'smile in a day' dental implants Leeds treatment options
EvoEssential™

Designed to restore critical chewing function to patients that otherwise face a lifetime of wearing dentures. A bespoke bridge is supported by 4 implants* making this sufficient for a functional and healthy bite.

£9,000 Lower Jaw
£9,000 Upper Jaw
£17,000 Both Jaws

Find out more

EvoAdvanced™

This provides additional implant support towards the back of the jaw, reducing the stress on the teeth and allowing for a bridge with more teeth which enhances aesthetics with a fuller smile and gives additional chewing capability.

£12,000 Lower Jaw
£13,500 Upper Jaw
£23,000 Both Jaws

Find out more

EvoUltimate™

Manufactured from Zirconia, a very hard ceramic material, allows us to make even stronger prosthetics. This is ideal for patient with severe gum disease, less bone, or worn teeth. This option mimics natural gums and teeth more closely, for more aesthetic finesse and realism.

£15,500 Lower Jaw
£17,000 Upper Jaw
£28,000 Both Jaws

Find out more
Frequently Asked Questions
How much does it cost for dental implants in Leeds?

We understand that full mouth dental implants in Leeds aren't cheap. Therefore, this significant investment is a decision that should only be taken after careful consideration.

Here at EvoDental, we are firm believers that everyone should be able to feel confident when eating, speaking or laughing, no matter what their financial situation may be. That's why we've made sure that our prices for dental implants in Leeds are some of the most competitive on the market.

Our range of finance options make dental implants in Leeds an achievable dream for most people. So, if you're unsure whether you'd be able to afford dental implants, get in touch with our friendly team. We'll talk you through our finance options to explain how we can help you realise your goal of beautiful, functional teeth.
What if my dentist in Leeds has told me I don't have enough bone for dental implants?

If your dentist in Leeds has told you that dentures are your only option as you don't have enough healthy bone for dental implants, don't just take their word for it!

Our EvoSolution means that a beautiful smile can be a reality for many Leeds residents whose lack of bone would make them unsuitable for traditional dental implants. Unlike other dentists, we make use of the pterygoid, zygomatic and nasalus areas to install two further implants.

Give us a call today on 0203 137 9714 to see if you'd be a candidate for the EvoSolution.
How do I book an appointment for dental implants in Leeds?

Get in touch to make your dream smile a reality. We have three clinics, and for our dental implant clients in Leeds, your nearest is Liverpool. Since you'll be travelling some distance, we will be happy to pay for accommodation in one of our partner hotels.

Take the next step in achieving your goal of beautiful, straight, white teeth. Book an appointment for a consultation by either:

Clicking 'Make an Enquiry'.
Giving us a call on 0203 137 9714.
Clicking the 'Live Chat' button on the bottom right of this page.
Clicking 'Contact Us' on the locations page.
What's the difference between EvoDental and other dentists in Leeds that perform dental implants?

EvoDental do not offer any routine or general dental services. That means we don't do check-ups, fillings, dental hygiene or root canals. We are dental implant specialists, and we offer ONLY full jaw dental implants.

Our EvoSolution is an innovative, precision-engineered alternative to all-on-four dental implants. We have thousands of clients across the whole of the UK, including Leeds, who are thrilled with their full jaw dental implants.

Additional factors that set EvoDental apart from other dentists in Leeds are:

We have our own in-house laboratories at your closest clinic in Liverpool, with advanced digital software and sophisticated 3D printing technology.
Our EvoSolution does not require bone graft surgery.
We won't need to perform a surgical sinus lift to install your implants, as our skilled clinicians can place dental implants into the Pterygoid bone.
EvoDental will only ever extract unhealthy teeth that cannot be saved.
Real patient Transformations
Below are some of our patients who have transformed their smiles with dental implants. We only use real patients in out marketing.
Our smile in a day patient journey
The EvoSolution 'smile in a day' dental implant treatment happens in just one day. Our Leeds clinic has a purpose-built on site dental lab, which allows us to design and manufacture a completely bespoke dental prosthetic and fit it on the same day as your surgery.
Take a look at our patient timeline

Morning

You'll arrive at 8am, and will be shown to your own private patient suite. This is yours for the day, and you can make yourself at home. You will then be taken to the treatment room and sedation will be applied. Any remaining teeth will be extracted and your new implants will be placed. This can take around 2 hours per jaw.

Afternoon

After the surgery, you'll return to your patient suite to rest and relax. At the same time, the technicians in the on-site lab will be producing your prosthetic.

Late afternoon

Afterwards, you'll return to the treatment room to have your new teeth fitted. You'll be able to leave for the day with a brand new smile, returning a few weeks later for your final set.
New clinic open in Leeds
Our brand new, purpose built clinic in Leeds is now open. The new dental implants centre is easily accessible, and is located on Savannah Way. This is at the central point in between junctions 43 and 44 of the M1 motorway, and junction 7 of the M621.
The address of the Leeds clinic is: Ground Floor, Darwin Building, Leeds Valley Park, Leeds LS10 1AB – for directions, please click here
Like all of EvoDentals clinics, the Leeds location is purpose-built to ensure that patients receive the best care possible, with the most beneficial outcome available. Some key points of our dental implant clinic in Leeds include:
Private patient suites
Treatment rooms
An on-site dental lab
A "CBCT" x-ray room
Private offices for meetings with clinicians and patient coordinators
A welcoming and open reception area, where patients will be greeted and shown to their patient suites
Meet our dental implant experts in Leeds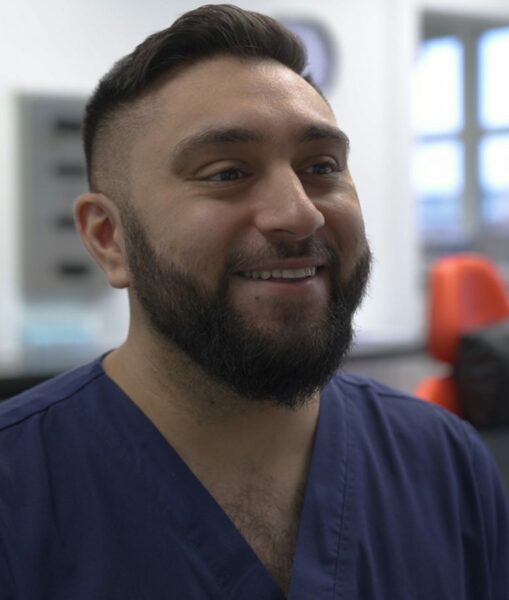 Dr Simran Chaggar
Clinical Development Lead and Senior Clinician
GDC No: 269628
I'm Simran Chaggar, I'm the Clinical Development Lead and a Senior Clinician for EvoDental, working across all our sites. I joined Evo in 2018 and spent 3 years working in the Liverpool clinic. My journey with Evo started when I met Manoj. I was on an implant course and over dinner and drinks, he was …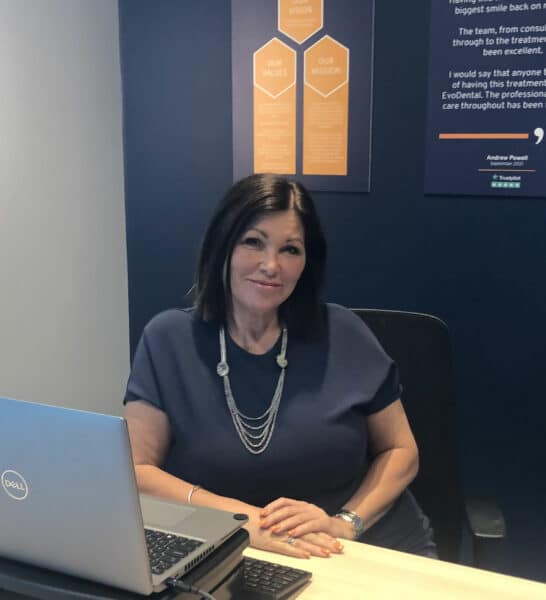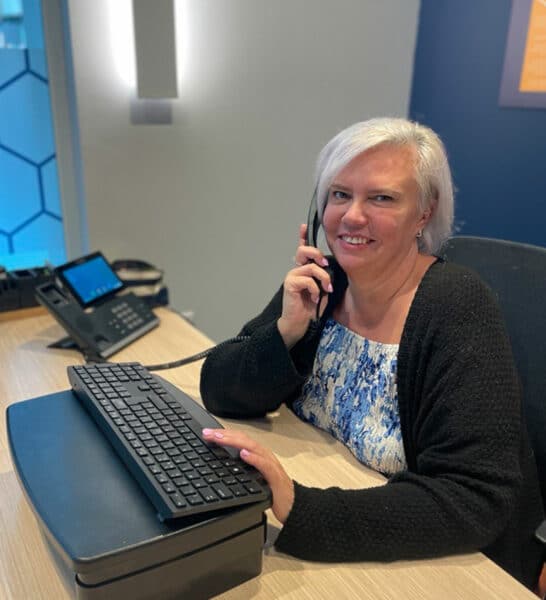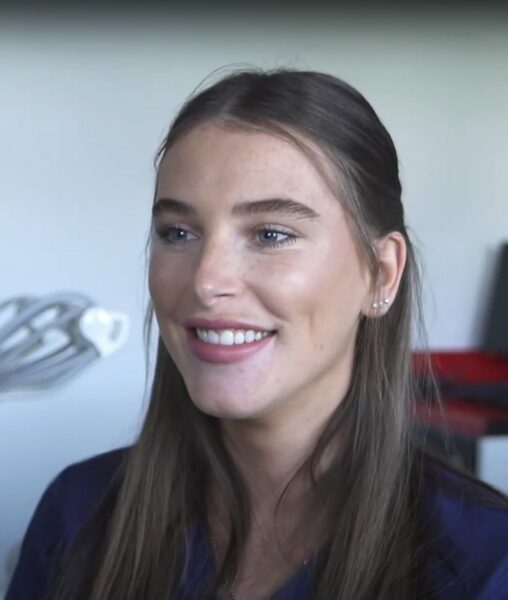 Hi, I'm Ellie and I'm one of the nurse's at the EvoDental Leeds clinic, I have been a dental nurse for 4 years. I first started off in an NHS practice just doing general dentistry, the dentist i was working for then started to do implants and I was amazed, I knew instantly this was …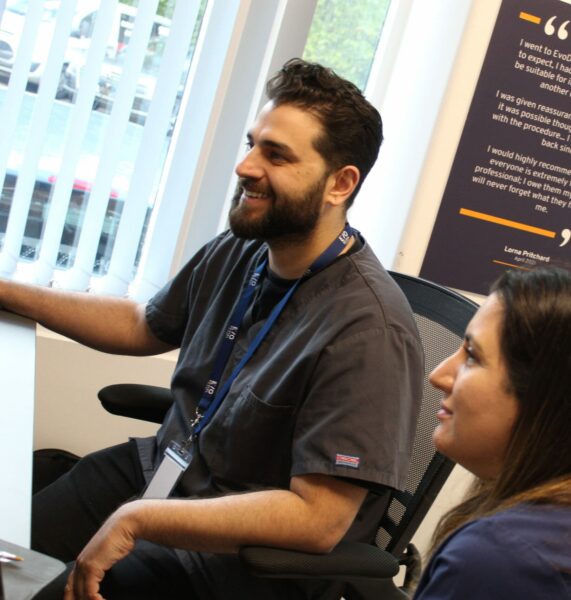 Hey I'm Gurj. I am one of the dental technician's at EvoDental in Leeds. I love my job and have always been keen on all things art and design related. I've always been a dab hand at anything practical. These qualities have been invaluable in my career as a dental technician. I have been a …
Where is our Leeds clinic?
EvoDental, Savannah Way, Leeds, UK
Useful information
Contact information

Opening hours

Open for appointments and enquiries

Monday to Friday – 9am – 5:30pm

Virtual tour

Take a look inside our Leeds clinic in our virtual tour!
Watch some of our patient journeys
Cost-effective dental implants in Leeds
We understand that dental implants are an investment, however we have worked hard to offer our unique services at the most competitive rates. Our prices are fair whilst reflecting the highest quality, and we also offer a range of finance options too.
So, if your finances are getting in the way of your dream smile, don't hesitate to get in touch with our team.
Book your free consultation today
Whilst it can be hard to find the right dental practice for such a life-changing procedure, we like to think we make the process easy and enjoyable for our patients. That's why we offer a free, no-obligation consultation, during which you can find out the ins and outs of all our procedures, and we can get to know more about you – letting you know there and then whether any of our treatments are suitable for you.
To find out more, get in touch with our team today.