Current Vacancies
Dental Nurse

Heathrow Clinic

Job description:

Life is too short to work somewhere ordinary…

So, why not work somewhere extraordinary!

We are the only UK clinics specialising exclusively in smile in a day, full mouth dental implants. This is all that we do, all day, everyday!

Are you a talented Dental Nurse who gets excited by implant dentistry? Do you enjoy interacting with patients and have empathy as a key superpower? If that's a YES, keep reading!

This role could be ideal for you if your desire is to take your Dental Nursing expertise to the next level within this niche, while working for an innovative, progressive business that is on a rapid growth trajectory and changing the world, one smile at a time.

This is NOT a chair-side assistant role. We ensure all our nurses are fully trained, and we have a nursing pathway that we are very proud of. This involves paid sedation, radiography and oral hygiene training for all nurses who do not already hold these qualifications, as well as the opportunity to work alongside some of the most talented Implant Clinicians in this field of Dentistry.

Our workflow has gathered much attention from the world of implant dentistry, and we can hand on heart say that nobody does it quite like us!

If this has piqued your interest and you would like to see us in action, come and spend a day with us at one of our EvoExperience days. See for yourself the life changing work we do.

Salary is dependent on certifications and experience.

Apply now!

One team, one way… the Evo way!

Receptionist / Office Admin

BRAND NEW Leeds Clinic

Job description:

Life is too short to work somewhere ordinary…

So, why not work somewhere extraordinary!

We are the only UK clinics specialising exclusively in smile in a day, full mouth dental implants. This is all that we do, all day, everyday!

As a Receptionist at EvoDental you will be the first port of call for all incoming calls and be the first impression of the Clinic when our patients and visitors arrive. We like to call this role our MD of first impressions!

This is your chance to make a real impact in a brand-new clinic and a brand new team, in a BEAUTIFUL building.

Our workflow has gathered much attention from the world of implant dentistry, and we can hand on heart say that nobody does it quite like us!

The Main Duties:

Scheduling patient appointments to optimise use of the facilities and manpower
Greeting patients warmly upon arrival, settling them into their individual lounges, gathering necessary data prior to treatment and ensuring they are relaxed and comfortable.
Keeping waiting patients apprised of the schedule, in cases where other treatments run late, ensuring other departments are also aware.
Liaising with the nursing, clinical and technical teams regarding individual patient
schedules, to ensure seamless coordination of the patient journey.
Maintaining records and performing general administrative tasks in between interactions with patients and staff
Liaising with the patient co-ordinator to ensure accurate and up to date patient information on systems
Ensuring the clinic is clean and tidy at all times
Ordering staff subsistence for meetings
Helping arrange EEX
Maintaining accurate and up to date patient information in dentally and zoho on a daily basis

Essential Experience:

Experience of working in a patient focussed environment
Good communication skills
Time management and demonstrable organisational skills
Proficient IT skills including all Microsoft Office packages including
Word, Excel, Outlook and Power Point * Good spoken and written English
Polite and comprehensive command of written and spoken English.
Calm and resilient when under pressure professional manner at all times.
Ability to empathise and reassure
Ability to work well within a team

Must be comfortable with overnight stays for training purposes. All expenses paid.

If this has piqued your interest and you would like to see us in action, come and spend a day with us at one of our EvoExperience days. See for yourself the life changing work we do

Associate Clinician

Liverpool Clinic

Job description:

An incredible and unique opportunity to work within an expert full arch implant team of clinicians, nurses and technicians.

EvoDental is the UK's most prolific provider of Full-Arch Implant Rehabilitations, and the effect of what we do for our patients is profoundly deep and life-changing. We are looking for a caring dentist to join our team of clinicians at our Liverpool clinic, to provide care to our patients.

All training and support will be provided by our experienced team, and will include training in assessment, treatment planning and prosthodontics related to Full-Arch implantology. Practically you will learn how to remove and fit Full-Arch prosthetics, diagnose and treat minor complications and if desired, can gain some minor surgical experience to add to the diversity of this role.

We prefer to allow plenty of time for appointments to allow for a relaxed pace and enjoyable environment for our colleagues and patients. No prior implant experience is required; only the attitude and aptitude to learn and fit into team and create a role centred around making our patients feel truly special.

This role would suit a dentist looking to leave the intensity of a busy NHS environment or hospital dental environments for a uniquely relaxed and inspiring role that is well-paid without the pressure of seeing high volumes of patients or carrying out lots of dental treatment

Vacancy details

Dedicated Full-Arch Implantology practice
Full support from experienced Full-Arch clinicians
Salary Range: £75,000 – £90,000
4 days per week: Preferably Monday, Tuesday, Wednesday and Friday

Benefits

Full training, support and mentoring
Company pension
Employee benefits including Life Insurance, Private healthcare, and wellness programme
Indemnity, GDC, uniforms and courses paid for
On-site parking

Immediate start is available
Benefits at EvoDental
Competitive Salaries

Fuel & Energy Subsidy

Wellness Contribution

Enhanced Maternity and Paternity Pay

Mental Health Support

Cycle to Work Scheme

Private Medical Insurance and Free Eye Tests

Life Assurance

GDC Registration

Indemnity Cover

EvoDental Treatment Plan

Your Birthday Off & Holiday Purchase Scheme
*Qualifying periods linked to length of service apply.
Life's too short to work somewhere ordinary… So, why not work somewhere EXTRAordinary!
With an unbelievably innovative and efficient digital workflow, thousands of delighted patients, and 90% growth year-on-year, it's no surprise to hear EvoDental™ is recruiting to support the growth of our full-arch implant rehabilitation clinics.  
Currently we have four clinics Liverpool, London Heathrow, London Harley Street, Leeds and Solihull and with two more planned for 2022, Leeds and Brentwood, we're looking to expand our superstar team. Interested? Read on…
There are a small number of growth positions across our existing clinics and we need entire new teams to join our forthcoming clinics in Leeds and Brentwood.
As part of the EvoDental team, you would join us in literally changing our patients lives. If you're looking for a career that makes a difference in the world then this is it.
As a member of our expert, empathetic EvoTeam, working for an innovative, progressive business that is on a rapid growth trajectory, you will take your expertise to the next level within this niche, highly specialised area. Whether that be on our Clinical, Marketing, Finance, Product or Patient teams we look for intellect, enthusiasm, focus, drive, communication skills, and bags of emotional intelligence.
If you're a talented, motivated, and convivial Clinician or DCP, please get in touch for an informal chat – this includes Digital Technicians too as all our clinics include a digital production lab! 
Our current vacancies are listed below, please click the 'Find out more' button and attach your CV.
If you would like to register your interest for future positions please send us an email with your CV to recruitment@evodental.com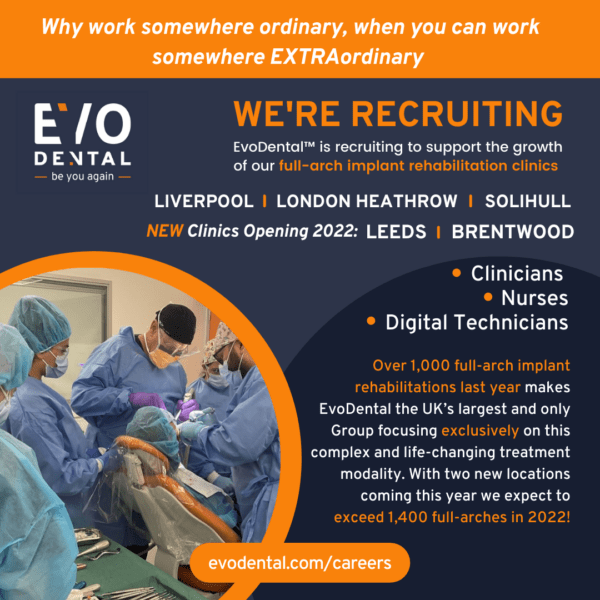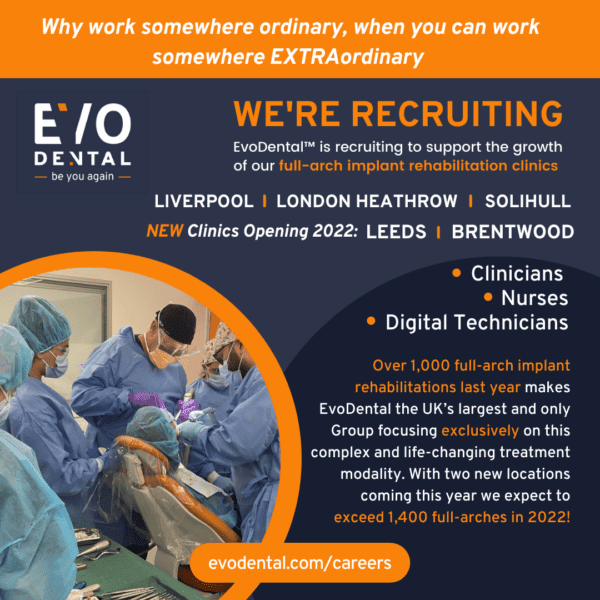 Core Roles Include
Our core roles throughout our clinics include the following:
Dental Clinician
Dental Nurse
Paid Dental Clinical Internship
Marketing
Lab Technician
Product Development
Finance
Administration
Business Manager
Patient Coordinator
What is it like being a member of the EvoTeam?
Take a look around
Take a walk through our EvoDental Clinics, see how we are purpose built for our daily smile-in-a-day surgeries, with an on-site lab where the precision engineered prosthetic is created by our experts on the same day as surgery.