Watch some of our patient journeys
Before and After All-On-4 Dental Implants
The EvoSolution is EvoDental's smile-in-a-day dental implant solution for missing or failing teeth.
The treatment only takes one day, around 8 hours, and replaces an upper or lower jaw's worth of teeth. These new teeth allow people to regain a functional and full smile and can help them to feel confident again whilst changing their facial shape back to its natural state.
This helps people who have suffered for years with failing teeth to enjoy a full and varied diet and socialise with confidence once again, all while sharing a brand-new smile.
Some of our patients have allowed us to document their smile in a day dental implant 'before and after' journeys.
Watch some of those patient journeys here to see how dental implants have changed their lives.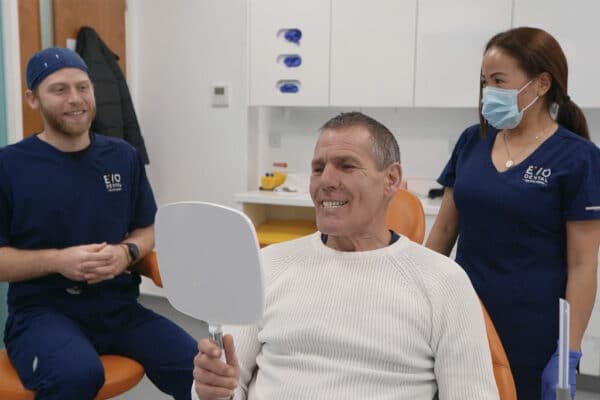 Patient outcomes
The best outcome for the patient is our top priority with every case at EvoDental. We do everything we can do to make the patient's journey with us as comfortable and informative as possible.
This involves using our expertise to provide everyone with honest, straightforward dental implant advice. In the very unlikely event that our solution isn't an option for you, we'll even help you speak to one of our partner clinicians who can help.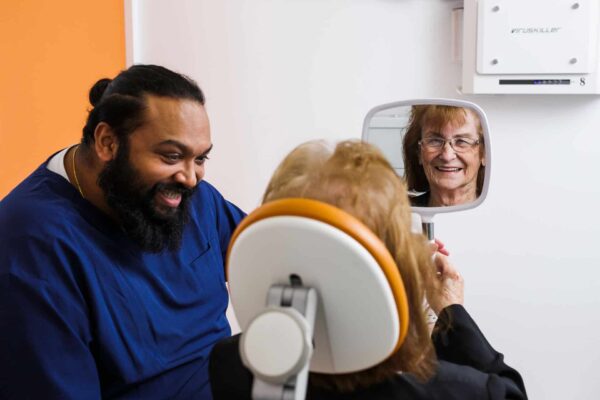 Be you again
Looking at images of teeth implants before and after surgery day can show the difference a new smile can make.
As the advanced alternative to all-on-four dental implants, the EvoSolution™ can restore a smile. Patients we have treated often comment that their self-confidence has been boosted, they are able to eat the food they love and can smile for photos again.
The new teeth look, behave, and feel like natural teeth, and help people to be themselves again.
See our patient reviews here.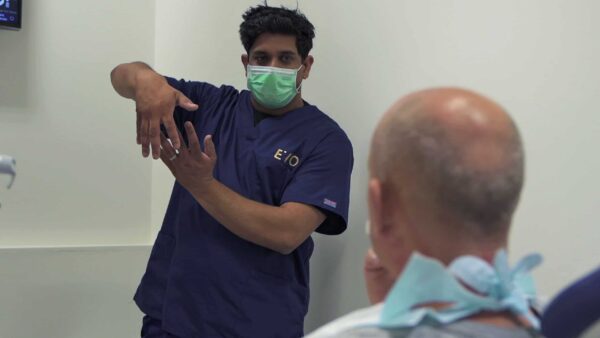 Request a free consultation
To determine whether you are suitable for the EvoSolution™, please fill out this form, if you are suitable one of Patient Coordinators will call you within 48 hours. Alternatively, call us on 0800 470 3050 Click to Call
Dental Implant Before and After FAQs
Will I have to wait long for my dental implants?

EvoDental specialises in smile-in-a-day dental implants, and each of our purpose-built clinics has an in-house dental laboratory where every patient's unique prosthesis is designed and manufactured. This can be done in only a few hours.

Most dental practices in the UK often outsource the manufacturing process to an external lab, increasing the time it takes to receive it. This means that patients will usually be fitted with a temporary denture on the day of surgery, as opposed to a fixed prosthetic.

Our solution allows you to leave the same day with your new smile, giving your mouth the chance to get used to your new teeth and allowing you to eat a wide range of foods comfortably again.

For more information, you're always able to contact one of our friendly patient coordinators. You can email us or fill in our short enquiry form and we'll get back to you as soon as possible.
How much do dental implants cost with EvoDental?

We specialise in providing full jaw dental implants, and so we have worked hard to make sure our prices are as accessible as possible.

We are completely transparent with our pricing and all prices are listed on our pricing page.

The clinical assessment for all patients is free of charge and is a great opportunity for people to learn about what their options are. We'll perform a free CBCT X-ray, and you'll also spend time talking directly to our dental implant experts, such as the clinicians, nurses, and patient coordinators.

Find out more about our range of finance options, or call us today for more information about our transparent pricing.
I have poor bone density; can I get dental implants?

Poor bone density or a lack of bone in the jaw can cause problems when it comes to fitting dental implants, however, our smile-in-a-day dental implants can help patients with almost any complex case.

EvoDental are experts in fitting dental implants in patients of all kinds, including those that have:

Been told that they don't have enough healthy bone for implants
Lost most (or even all) of their natural teeth
Suffered from severe gum disease
Already undergone extensive dental work such as bridges and crowns
Have failing teeth

As such, EvoDental created The EvoSolution™ to allow patients with low bone density or a lack of bone to transform their smile with dental implants.

For more information, request a free consultation. If you are suitable, one of our Patient Coordinators will call you back within 48 hours.
Do All on 4 dental implants hurt?

EvoDental provides an advanced alternative to all on four dental implants, named the EvoSolution™.

Part of fitting the advanced alternative to all-on-4 dental implants includes anaesthetics, which are used to keep patients comfortable, communicative, and cooperative during treatment.

Anaesthetics used by EvoDental include:

Oral sedation- taken orally with a table.
Local anaesthetic- injected into the gum.
Intravenous IV sedation- administered via a vein. *

*Non-standard and subject to further costs.

Alongside anaesthetics during your procedure, your aftercare will include pain medications, antibiotics, and advice designed to minimise pain while you recover.

To find out more about pain management and what to expect after dental implants, explore our blog 'What To Expect After Dental Implant Treatment,' or call us today to speak to our friendly patient coordinators.