If your dentures are ill-fitting or uncomfortable then it's likely that you're researching other options. Perhaps you've been told by your dentist that you don't have enough healthy bone to fit traditional dental implants. Whether this is the case or not, all-on-four-dental implants could be the solution you've been looking for.
What are all-on-four dental implants?
The all-on-four procedure completely restores the upper and/or lower arch by placing four dental implants in each jaw, which are fitted to a dental bridge.
This gives you a full set of permanent teeth that won't move around and cause irritation like dentures can. Your all-on-four dental implants will look and feel completely natural.
Four titanium screws will be placed into each jaw, acting as the roots of the teeth. These bond to the bone in the same way that a real tooth root would. The dental bridge is then attached to these, giving you the perfect smile you've always dreamed of.
The great thing about all-on-four dental implants is that they can be a successful alternative to bone augmentation, a complex surgical procedure that is sometimes needed for other types of dental implants. This minimises your time spent in surgery, and can also prevent future bone degradation caused by tooth loss and periodontal disease.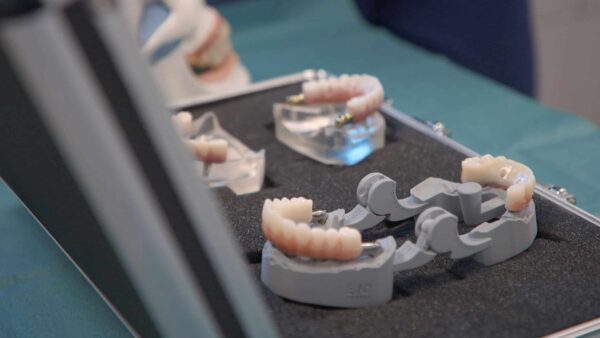 What is the price of all-on-four dental implants in the UK?
The all-on-four implant procedure is a life-changing investment that requires careful consideration. The cost for all-on-four dental implants depends on whether you need one or both jaws treated, but the starting price for full jaw dental implants in one jaw at EvoDental is £10,500.
This may sound expensive, but our pricing reflects that we use only the highest quality materials and the most advanced technology to ensure you get the results you want and deserve.
Having said this, we don't believe that anyone should have to put up with poor oral health because of their financial situation. That's why we offer a range of finance options to help your dream smile become a reality no matter what your circumstances. To find out more, check out our pricing page or give us a call and chat with one of our knowledgeable patient coordinators who will be happy to go through your options.
| | | |
| --- | --- | --- |
| Overdenture | EvoSultion™ | All on 4® |
| Treatment completed over several visits with a denture as the end result | Treatment can be completed in just ONE day, typically without the need for bone grafting | Treatment completed over many visits, including bone grafting in most cases |
| Removable and located by two to four mini implants per arch | Permanently secured by four to six implants per arch | Permanently secured by four implants per arch |
| Temporary denture necessary during the process | Permanent teeth can be fitted on the day of treatment | Temporary teeth and sometimes dentures necessary for several months |
| Poor oral hygiene due to bulk of dentures and requirement to remove after every meal/snack | Superior oral hygiene due to specific design parameters and standard protocols | Variable oral hygiene depending on clinician's protocols and experience |
| Implants failure risk increased due to significant removal and cleaning regime | Implant failure risk reduced significantly due to strict design protocols and ease of oral hygiene protocols | Implants failure risk variable depending on clinician's protocols and experience |
| Consultations charge can be £150+ | Free consultation, always | Consultations charge can be £150+ |
| Typical prosthetic bulk of a denture including covered palate | Expanded dental arch meaning more teeth, with no palate cover and slimline bulk | Shortened dental arch meaning less teeth and typically a bulky prosthetic |
| Full-mouth costs £10,000 to £16,000 | Full-mouth costs £19,000 to £26,000 | Full-mouth costs £20,000 to £35,000 |
Is the all on 4 dental implants cost cheaper abroad than the UK?
You'll probably find that all-on-four dental implants abroad cost significantly less than in the UK.
Bear in mind that you really do get what you pay for. Repairing shoddy workmanship can cost you a lot more in the long run than what it would have done to have the work done properly in the first place.
Also, it's worth noting that dentists abroad usually aren't regulated in the same way as they are in the UK, and if you're unhappy with the results, you may find it difficult to get compensation.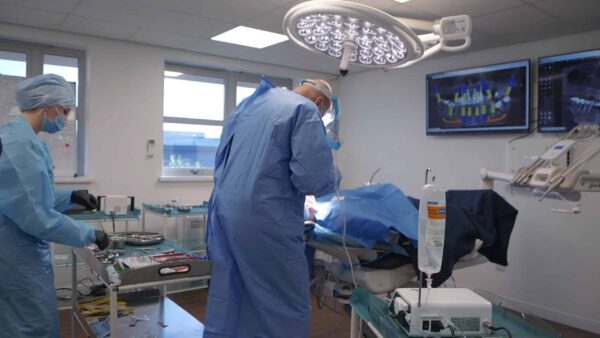 EvoSolution vs all-on four dental implants
The EvoSolution is a sophisticated alternative to all-on-four dental implants as our highly specialised team can add a further two implants in the pterygoid, zygomatic and nasalus areas of the upper jaw.
This not only improves the durability of all-on-four dental implants but allows for a slimmer prosthetic with improved feel and comfort for you. As the EvoSolution allows more implants to be placed in the upper jaw, this in turn means that two additional teeth can be added to the upper prosthetic.
Our EvoSolution is one of the most popular and successful alternatives to dentures, not only offering you a permanent resolution, but also transforming your self-confidence immediately.
The table below shows the benefits of the EvoSolution compared to traditional all-on-four dental implants or overdentures.
Get in touch today to find out more
Our friendly and knowledgeable team have many years of experience with the all-on-four dental implant procedure and we're confident we can help you, however bad your teeth are.
We specialise exclusively in full mouth dental implants, and our three UK clinics in Liverpool, Solihull and Heathrow make us accessible for most people by car or rail.
EvoDental welcomes anxious patients, so if that's you, the all-on four procedure could be just what you've been looking for. Take a look at our recent blog post on dental phobia to find out how we can help.
We'd love to hear from you, so why not reach out to find out more? Just call us on 0800 470 3050 Click to Call or send us a message today