Smile in a day dental implants provides a life-changing solution to those who are suffering from dentures, gum disease, or otherwise failing teeth.
Smile-in-a-day dental implants are revolutionary because people can go from their current dental situation to a fully functional and amazing smile, in just one day.
One of the questions we are asked most often is, how long do dental implants last? This is an important point to factor in, and there are several factors to consider which have an impact on their lifespan.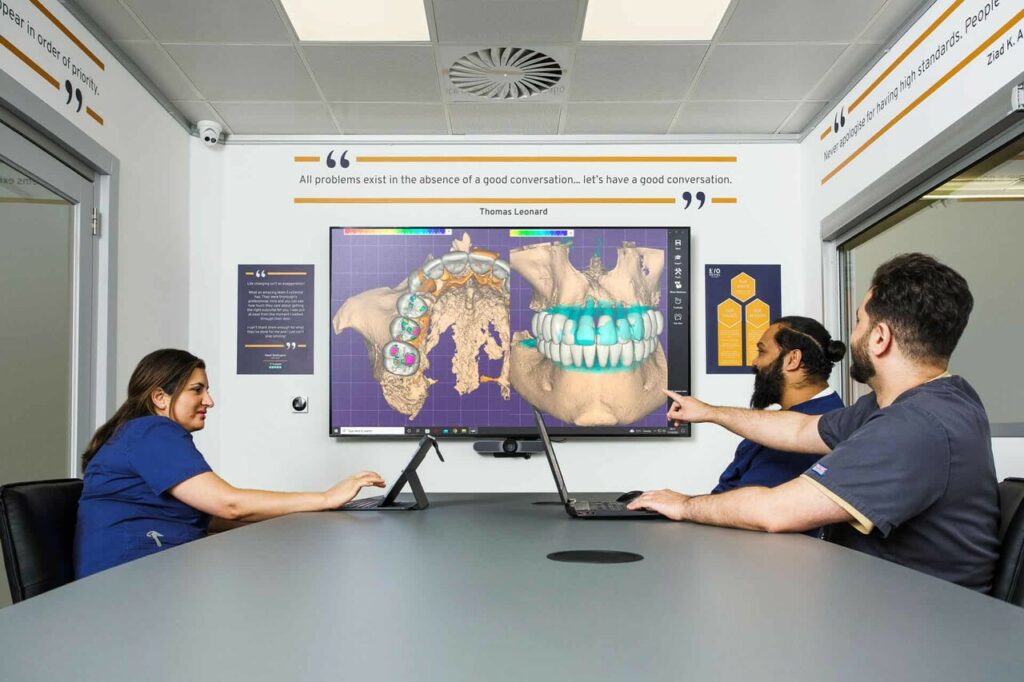 How long will smile-in-a-day dental implants last?
The smile in a day treatment comprises of two main parts, the dental implants themselves and the prosthetic bridge that is mounted onto it. Both need to be maintained and cared for properly, in order to maximise their longevity.
Although every case will be different, if cared for correctly, dental implants can go on to last a lifetime. While 90% of all implants last for 10 years or more, dental implants, just like natural teeth, can encounter problems if left without regular maintenance, and a person's general health and hygiene habits all play a big part in maintaining them.
EvoDental focuses entirely on the smile-in-a-day solution and has taken steps to develop, optimise and enhance our processes so that the best outcome is achieved for every patient. This includes utilising state-of-the-art digital technology and techniques such as Photogrammetry, in-house laboratories, and premium quality Southern Implants for all of our smile-in-a-day procedures.

Southern Implants
As part of our continuous optimisation, we selected Southern Implants for our implant system, as they provide long-lasting quality, endurance, success and integration. The implants that Southern produce is constructed from materials that are durable, light, and strong.
They also promote bone density as well as integrate with a patient's bone structure, in a process called osseointegration. This has the effect of making the implants even stronger, as they are fixed in place.
At EvoDental, smile-in-a-day dental implants are made up of:
Implanted titanium screws from Southern Implants
An abutment made of titanium or zirconia ceramic
An overlying crown, usually made of usually a metal, a ceramic, or a mix of the two.
How can I help my dental implants last longer?
Once the surgery is complete, every EvoDental patient will receive a goodie bag which contains everything they will need to look after their new teeth. This includes an oral hygiene kit, with an electric toothbrush, a water flosser, and instructions on how to use everything to maintain healthy teeth and implants. The vast majority of our patients have success with this, helping them to look after their implants.
Conscientious aftercare and proper dental hygiene will always ensure that the prosthesis or the gums are looked after properly and attending regular check-ups will help patients to stay on top of their dental hygiene.
Looking after implants is very similar to caring for natural teeth, so no extra or complicated work will need to be done by the patient. Some of the advice we give patients who have dental implants includes:
Brushing twice daily as before, but with a soft toothbrush and non-abrasive tooth gel instead of normal toothpaste.
Avoiding brushing the gums, which can affect healing.
Rinsing thoroughly and using oral irrigators or dental water flossers alongside interproximal brushes on the lower-jaw prosthesis.
Alongside ensuring a high quality of dental hygiene, patients should prioritise their annual maintenance appointments with EvoDental.
At their annual maintenance appointment, their Evo clinician will check:
Implant stability and integration
Wear and tear on the prosthesis
Supporting structures, such as soft tissue and bone levels.
During this appointment, further checks may be carried out to see how well the implants are adhering to the jawbone.
In some instances, the prosthesis may be removed to undergo microscopic analysis in our on-site labs. In others, it will undergo a full clean and polish to keep the teeth looking clean and bright. The maintenance appointments are a great way to make sure that your new implants and prosthesis last for as long as possible.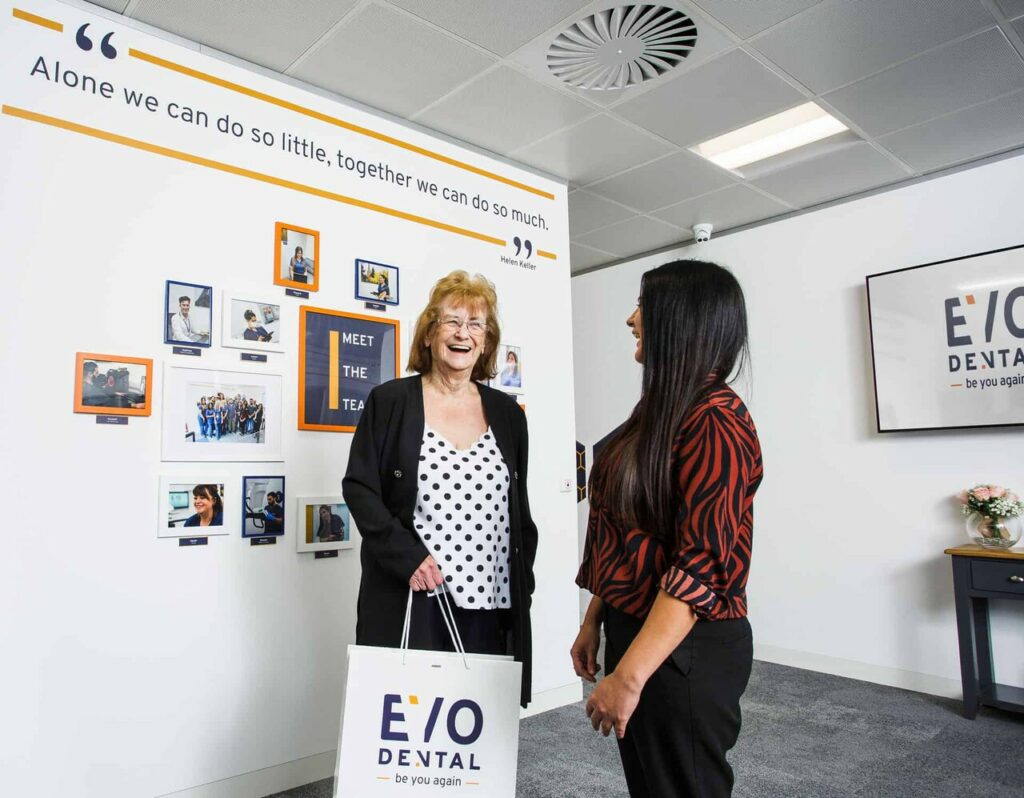 Restore your smile with EvoDental
If you would like more information about our smile-in-a-day dental implants and how they can transform not only your smile but your life, contact our caring and friendly patient coordinators. You can call us on 0800 470 2997, or Request Free Consultation
and we will get back to you within 48 hours.