Like the idea of a smile transformation that takes just one day?
Looking for a life-changing solution to treat gum disease or replace your failing teeth? Maybe you're searching for a viable alternative to dentures?
Whatever your goals, choosing EvoDental for your smile in a day dental implants means that you can leave with a brand new smile and a fully functional set of teeth in as little as 8 hours.
But what can you expect on procedure day? Read on to find out!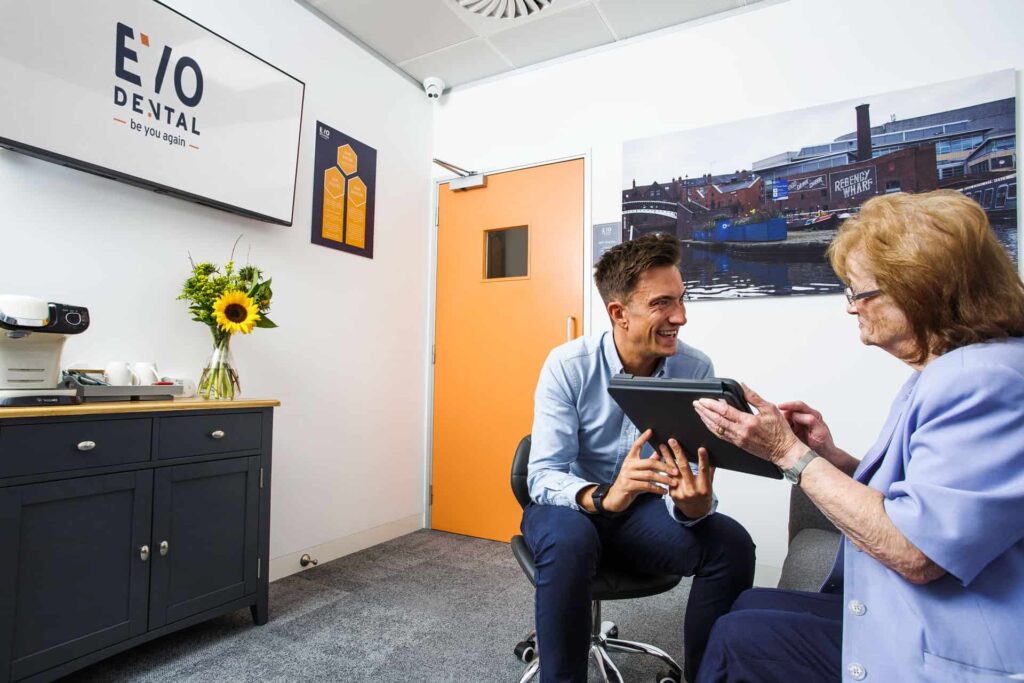 Will my smile-in-a-day dental implants be fitted in one day?
Absolutely!
EvoDental has spent decades pioneering a solution for replacing failing or damaged teeth in a single day.
For 15 years, we've enhanced and optimised the process for all of our patients, achieving the optimal outcome.
The smile-in-a-day dental implants procedure day
Smile-in-a-day procedures start bright and early, with patients being advised to arrive at one of our purpose-built clinics for 8 am.
After arriving, you'll be shown to your personal patient suite and will have an opportunity to ask any questions. We'll talk you through the procedure again and make sure you are ready.
You will then be given an anaesthetic and your remaining teeth will be extracted, allowing for your new dental implants to be placed.
A little later in the day, you'll be fitted with your first, provisional prosthesis, allowing you to leave with a brand-new smile without delay.
This provisional prosthesis will be replaced after 12 weeks by your definitive prosthesis. However, they will look and function in the same way as the final prosthesis, allowing patients to get used to their new teeth while showcasing their brand-new smile, straight away.
This is the final step on procedure day, allowing you to go out into the world with confidence.
The final prosthesis
12- weeks after the procedure day, you will be welcomed back to EvoDental for the fitting of your permanent prosthesis.
During this time, our expert technicians will have manufactured your final enhanced prosthesis in our on-site laboratory. They will have made any adjustments necessary for your comfort, to ensure a perfect and comfortable fit, and tweaked the colour and style if you requested it.
This is how we make sure that your new smile is perfect for you, increasing comfort and providing real teeth feel- helping you to be you again.
Smile-in-a-day dental implants recovery times
After your dental implants and the prosthesis are fitted, you may find there is some slight discomfort, but we will help you prepare for this, providing everything you need in a gift bag you receive on the day.
After a short time, you will be able to resume your normal activities.
Every patient that comes to see us at EvoDental is different, as is their procedure, and this can mean that every recovery process is different too, however, we're always here to help.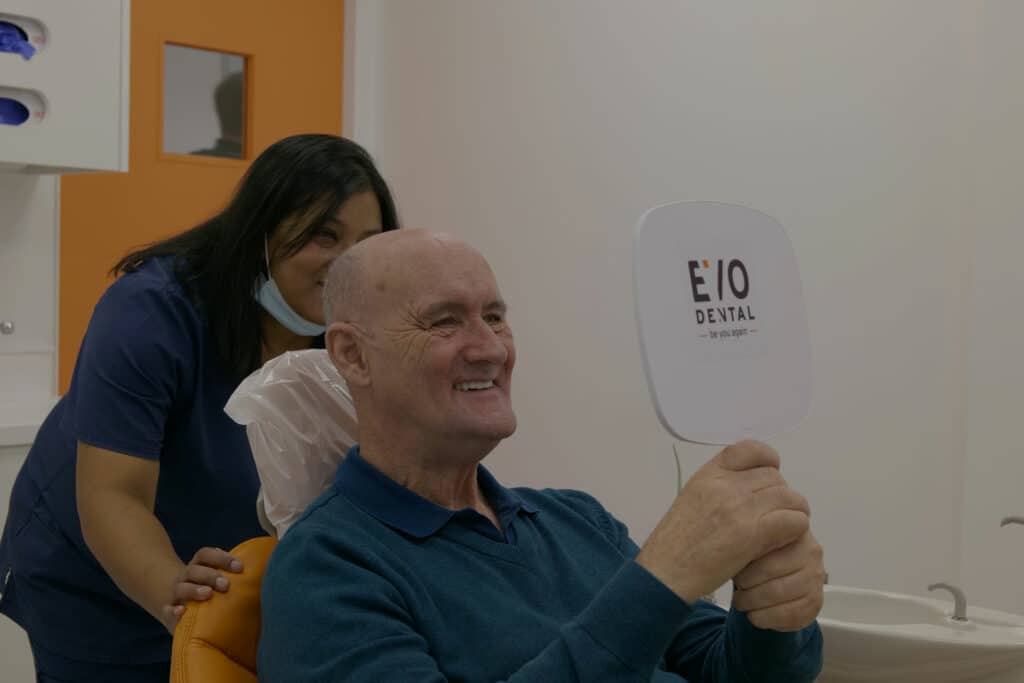 Contact EvoDental for your same-day smile
Smile-in-a-day dental implants can change your life for the better.
Gone are the days of hiding your smile, avoiding eating out, and keeping yourself locked away from social activities. You can do everything you love, with a beautiful smile for all to see.
If you would like more information about our smile-in-a-day dental implants and how they can transform not only your smile but your life, contact our caring and friendly patient coordinators.
You can call us or request a free consultation and we will get back to you within 48 hours.