Are you living with mass tooth loss?
Do you think that dental implants couldn't work for you because you are missing too many teeth, or a dentist has advised you don't have enough bone?
EvoDental's advanced alternative to all-on-four dental implants is the answer.
Can all-on-four dental implants replace many teeth?
EvoDental have pioneered an advanced alternative to all-on-four dental implants, which we call our 'smile in a day' treatment.
This alternative can replace 10-12 upper or lower teeth in one procedure, revolutionising a patient's smile.
All on 4 dental implants allows all upper or lower teeth to be replaced with a one-piece, full jaw prosthetic bridge, secured in place with only 4-6 titanium dental implants.
Available from EvoDental, 'smile in a day' gives patients a true smile restoration, transforming the upper or lower jaw in one go. Leaving wearers free to eat, socialise, and live life to the fullest once more.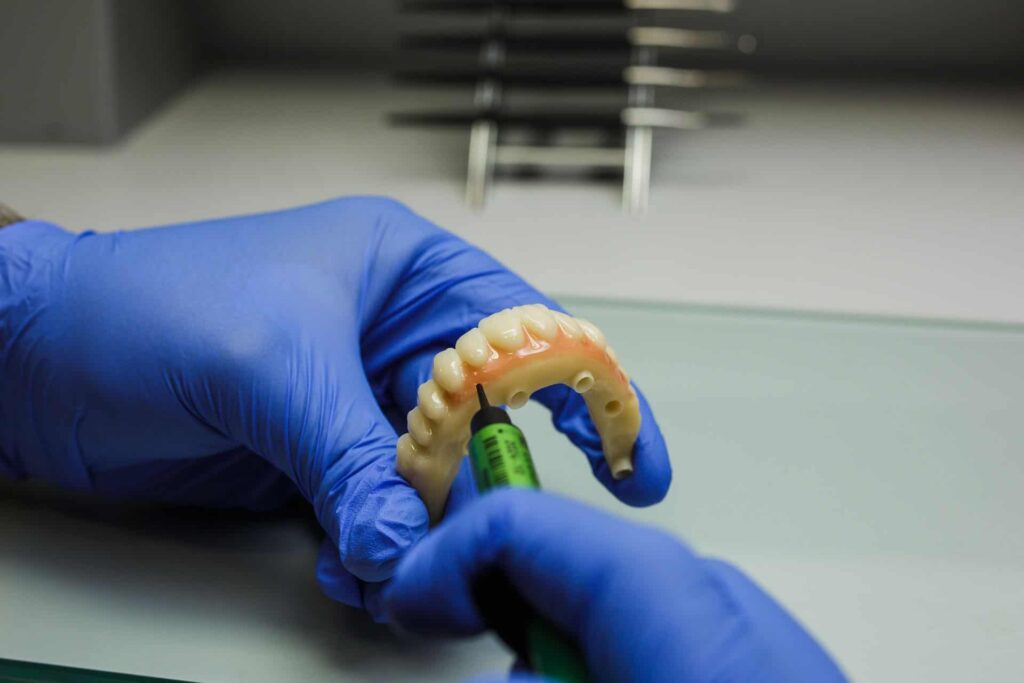 Do you use sinus lifts and bone grafts during all-on-four dental implants?
Many dental clinics offer dental implants across the UK. But the vast majority utilise bone grafts and sinus lifts to create a platform for implants.
EvoDental's 'smile in a day' however, removes the need for these surgeries in 95% of cases.
Why is this important?
Sinus lifts and bone grafts can add a further 4-9 months of healing time, which must be completed before dental implants can be placed.
Leaving the patient toothless and wearing temporary dentures for months.
'Smile in a day' however, allows for the insertion of bespoke pre-maxilla, pre-mandible & Pterygoid implants on the same day as the patient's teeth are removed.
Cutting down treatment timelines from most of a year to just one day.

How is the smile in a day treatment possible?
You might be wondering how it is possible to receive the smile in a day treatment if other clinics take months to fit the dental prosthesis.
On the day of surgery, your EvoDental clinician will fit your dental implants and a provisional prosthesis which looks and functions in the same way as your final set will.
These are produced in EvoDental's in-house laboratories by specialist technical engineers and allow wearers time to get used to their new teeth whilst enjoying the benefits.
12 weeks later, the patient will then return to the clinic for the placement of their final, definitive prosthesis.
In the 12 weeks between provisional and definitive prostheses, our in-house technicians can make adjustments to the appearance, colour, and fit of the final prosthesis, ensuring it feels and performs even better.
Is the EvoSolution™ suitable for me?
The advanced alternative to all-on-four dental implants, 'smile in a day' is ideal for many patients, especially those advised that dentures may be their only option.
These include patients who have:
Been told they need sinus lifts and bone grafts
Lost most or all of their natural teeth
Would prefer not to use temporary dentures
Would rather have a provisional prosthesis fitted on the same day
Suffered from severe gum disease
Teeth that have started to fail
Financial situations that need pricing and finance options
Contact the experts in all-on-four dental implants and transform your life today
EvoDental offer free 90-minute consultations across the country and believes in being upfront with patients.
At the end of your consultation and scans, our experienced clinicians will let you know if you are a suitable candidate for 'smile in a day', removing long and often anxiety-inducing wait times, and will discuss their proposed treatment plan for you.
To start your journey back to a beautiful smile, find out if you are suitable for All-on-Four dental implants complete our enquiry form. We will get back to you within 48 hours.
---