People's minds often go straight to dental implants when they think about restoring their smile.
And we aren't surprised.
Dental implants can give patients the chance to smile, enjoy eating and feel like themselves once again.
Here's everything you need to know about dental implants and what they can do for you.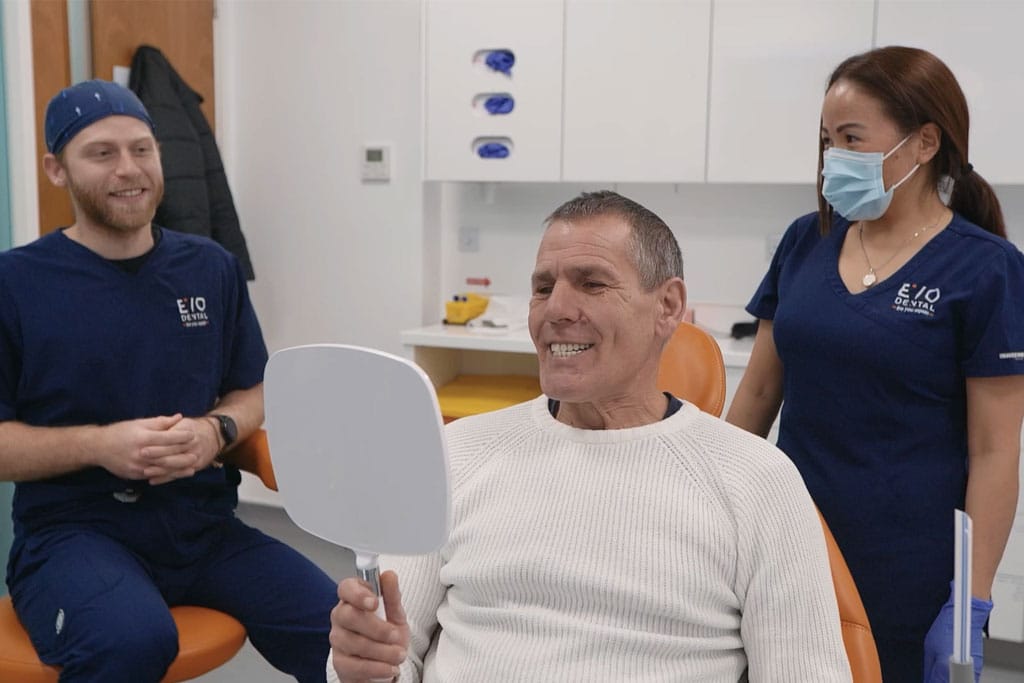 What are dental implants made up of?
Dental implants are made up of a three-part system that replaces natural teeth or fills in a gap where your natural teeth should be.
First, the titanium dental implant is fitted into the jawbone. These implants provide stability and ensure that the abutment and prosthetics don't move, allowing you to eat anything you like, smile widely, and chat with confidence.
Next, a one-piece bridge is placed on top of the dental implants. Providing a base for the prosthesis, the bridge secures a healthy bite and creates the real feel of natural teeth.
The prosthetic (the part that is visible when you eat, smile, or speak) is then fitted. The prosthesis gives you your smile back along with the ability to eat and socialise confidently again.
When using the best materials, dental implants function and look just like natural teeth, allowing you to not only access a full and active life again but see a huge improvement in your self-confidence.
Types of dental implants
Different types of implant solve a separate issue and come in multiple varieties, including single, sectional, and full arch implants. Each type of dental implant looks different and functions differently in the mouth.
Single dental implants
A single dental implant replaces one, singular missing tooth.
It is made up of all three component parts, the dental implant, abutment, and prosthesis.
Sectional dental implants
Sectional dental implants sometimes referred to as implant-supported bridges, fill in multiple missing adjacent teeth.
They use multiple dental implants, followed by abutments, which support the bridge which holds the prosthesis.
This is preferred by some patients because they do not rely on neighbouring teeth for support, which can cause them to fail over time.
Full-arch dental implants
Full-arch dental implants use a series of 4-6 dental implants to restore an entire arch, or jaw, of missing teeth, either upper or lower jaw.
This solution is considered by patients who have considerable tooth loss and replaces all of the natural teeth, using dental implants, abutments, and a full arch prosthesis.
This type of dental implant is sometimes referred to by other names, including:
All-on-four dental implants
All-on-six dental implants
Smile in a day solutions
EvoDental provides the EvoSolution™, which is an advanced alternative to all-on-four dental implants.
Why should I consider getting dental implants?
If you're interested in dental implants, there are a few things you need to think about.
1. Do you need dental implants?
Dental implants are a fantastic option for people who have failing or missing teeth.
EvoDental has helped patients who have:
Been told that they don't have enough healthy bone for implants
Lost most or even all of their natural teeth
Suffered from severe gum disease
Already undergone extensive dental work such as bridges and crowns
Have failing teeth
With over 15 years of experience in smile-in-a-day, full-mouth dental implants, EvoDental has the knowledge and expertise to restore smiles of all kinds, no matter your dental condition.
2. You hate dentures
Unlike dental implants, dentures are frequently loose and sore, and can visibly move around in the mouth while eating or speaking.
If you are currently struggling with dentures, dental implants that permanently replace missing teeth are a good alternative.
Painful sores caused by rubbing, the discomfort of a poor fit, and the embarrassment of slipping teeth are something many denture wearers experience. Secure dental implants look and work just like natural teeth.
With EvoDental, we provide a smile in a day solution, allowing patients to have full-mouth dental implants in just one day.
3. You need to make a change
For many people with failing teeth, reaching a decision to go for dental implants can be a big step, one of which needs time and research to properly take.
This may be because they have become progressively more unhappy as their teeth have deteriorated or because of factors such as anxiety relating to dental treatments.
EvoDental offers free consultations that allow patients to fully discuss their options and outcomes before deciding to proceed. Our experienced clinicians, nurses, and engineers will collaborate to formulate a bespoke strategy for each case, ensuring all patients receive the best treatment for them and their needs.
To request a free consultation, call us on 0800 470 3050 or fill in our short consultation form and one of our patient coordinators will be in touch.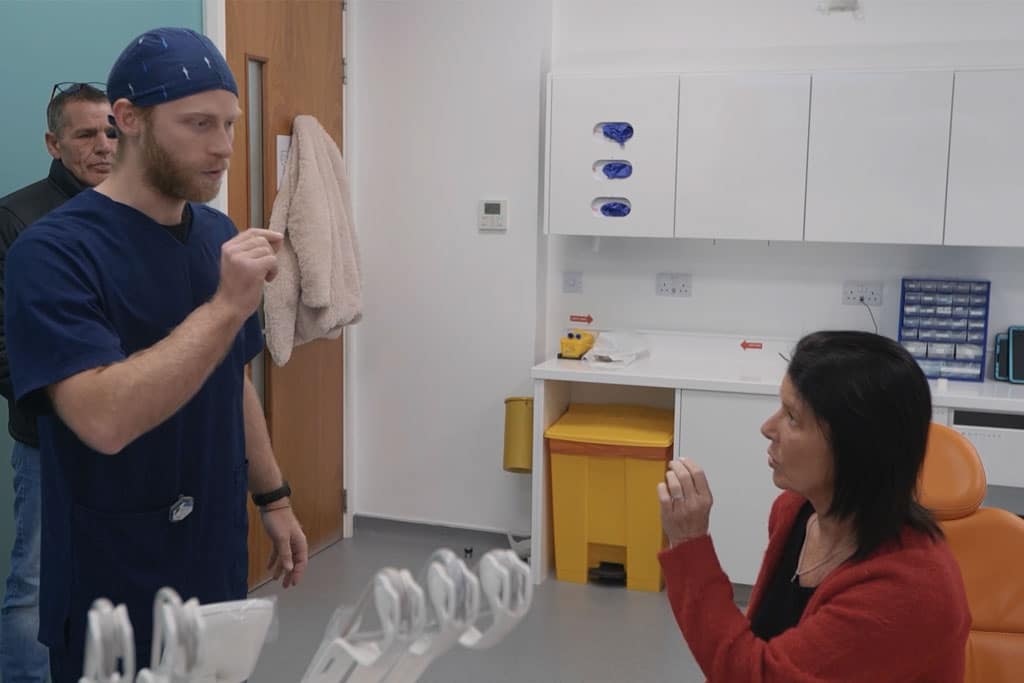 How long does it take to get dental implants?
All dental implant procedures with EvoDental start with a consultation with our skilled and experienced clinicians.
In this consultation, our experts will examine your teeth and discuss your needs with you, suggesting the solution best suited to you. You will then have a series of scans, which allow the dentist to see inside your jaw and create a plan for inserting your dental implants.
On the day of surgery, you will return for the fitting of your dental implants and leave the same day with your new smile!
This specialism in smile-in-a-day procedures means that patients leave us with healthy functional smiles allowing them to live life to the fullest once more without the need for multiple treatments.
Contact EvoDental for dental implants today
If you are ready to make a change, reach out to us at EvoDental today. With purpose-built clinics across the country, there is a site perfect for everyone.
To assess your suitability, you will first need a free consultation. To request one, you can call us or fill in our enquiry form and we'll get back to you within 48 hours if you can get dental implants with EvoDental..